Gala Opportunity For New Members
 Membership has recently sored in our junior section, Therefore, Beeston Hall School kindly offered Vikings an opportunity to either compete for the very first time or a chance of a little more race practice in a friendly match against their school team. No fewer than thirty one swimmers took part as distances were contested over both 20m and 40m in front of a large gathering of appreciative parents and spectators. 
There were some exciting races and close finishes and one event event was decided by two tenths of a second whilst both teams scored points on either side of the lane lines However when the final tally was revealed Beeston Hall School ended up worthy winners.
At the conclusion,  Mrs Cresswell from Beeston school said
"For many this was their first chance to race against children outside of their school and they enjoyed the opportunity and rose to the challenge. Vikings put on an excellent display with some brilliant swims and we had a number of nail biting finishes."
and our Chairperson Sarah Buchan, replied with 
"Our junior section has been developing well  lately and it was pleasing to see them reaping their reward for all their hard work they have put in over the summer months and thanks  to Beeston for their hospitality and friendly rivalry."
 John Holden
Representing Vikings were L to R
Photo 1 The team  L to R Clara Farrow  Lilly Dear, Reuben Seaman,, Alice Dickety, Amiyah Haws, Isobelle Chaplin Evie Bates, Baillie Breighton, Isla Davies Toby Corfield, Georgia Lee, George & Zak Edridge.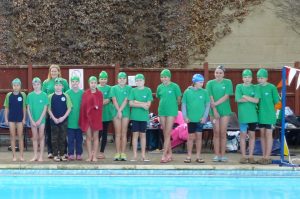 Sarah gives team talk to the Vikings
 Photo 2