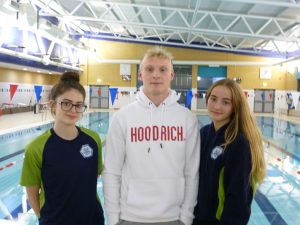 Silver Linings For Harry and Sophie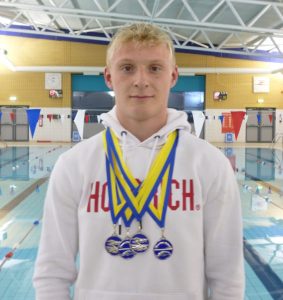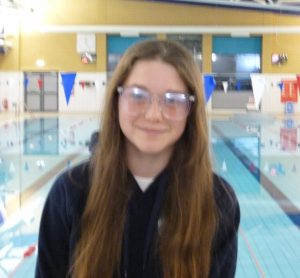 Harry Hudson was on top form again for the club when he claimed four silver medals and broke another 30 seconds at the UEA. in a competition promoted by Diss Otters Swimming Club when clubs attended from all parts of the Eastern Region.
The sixteen year old from Stalham – who has already gone under 30 seconds in the 50 freestyle in July – went under 30 again in 29 seconds exactly: this time over 50m butterfly but was just thwarted by James Crossfield of Deben as only 0.85 separated the pair. Harry later went on to win his heat in the 50m backstroke but just missed another thirty seconds with his 30.97. and just 0.42 agonisingly outside gold to Joe Flowers of St Felix School who swam faster in a different heat However, he came back strongly In the 100m butterfly to achieve his third silver medal in 1.07.05, when he was runner up to Cornelis Verdonk of Newmarket who touched in 1:05.99. To complete his quartet of silvers, he came second in the 100m backstroke two seconds adrift to Joe Flowers in 1:09.22.
Sophie Mckee made the most of the opportunity and proved what an adroit swimmer she is by claiming second place in the 15 years backstroke against stiff opposition with 1:16.02 and then later joined fellow Viking Ruby Tracey from North Walsham in the 100m freestyle coming seventh in 1:06.89 from Ruby's ninth in 1:08.41. Ruby's highest position was the 100m breaststroke when she finished in sixth place in 1:26.36 – her best stroke.
Intermediates William Coop, and Masie Fagan both from North Walsham demonstrated their appetite for the sport in their respective age groups, both swimmers did three events. William admitted that his best race was his 50m freestyle and it was epitomised in his technique when he went over the distance in 33.80 finishing fifth. Masie, meanwhile made no mistakes when the North Walsham High School student completed the 200m freestyle as one of the braver Vikings coming tenth in 3:03.41. Rebecca Burrows was simply excellent in her 200m freestyle when on the last length, the 14 year old from Rackheath demonstrated an almost perfect unilateral breathing technique to take her strongly to the finish in 2:51.95 to finish seventh.
In the under 13 years 50m freestyle the time margins were faster than blinking when Viking trio Rebecca Burrows, Emily Beighton and Emily Morton seemed to touch the pad together but the electronic timing separated, them all with Rebecca on 36.05 finishing in 16 place with Beighton on 36.83 just 0.05 ahead of Morton respectively although under swimming laws, they were both awarded 18 place as the margin was so slender.
Swim twins George and Zak Edridge excelled in both the 100m freestyle and breastsroke respectively with George getting the slight upper hand on his brother. George was fluent especially on the freestyle when he recorded a 1:25.52 and in the breastsroke finished one place ahead of his brother in 1:36.23, both of whom were below their entry time displaying a significant improvement from both brothers.
Esme Seaman, aged 11 and her younger brother Reuben aged 9, swam in no fewer than seven events between them. Esme, looked determined and demonstrated her improved fitness when she came thirteenth with her 50m 51.28 over 50m butterfly. Graduating from the development squad, Reuben came second over 50m breaststroke in his heat and surprisingly did very well to finish in 1:06.49 coming eighth. Reuben also excelled in the 50m freestyle in 48.17 and he was joined in the same race by fellow Viking, Bailee Beighton who scored 49.24 with both boys coming ninth in their respective age group categories. A distinct improvement from the pair.
New member, 10 year old Winnie Browne made her debut with the Vikings with both 50m freestyle (42.67 -sixth) and 50m backstroke (53.72 – fifth)) respectively.
Vikings achieved forty one personal bests and eight county qualifying times – congratulations to them all!
John Holden
_______________________
Photo – Ruby Tracey, Harry Hudson & Sophie McKee
Photo – Only split seconds separated L – R Emily Morton, Emily Beighton & Rebecca Brooks
Photo – Winnie Browne who made her debut for the club.