Club Chairman: Sarah Buchan
I'd like to say thanks to the Committee for electing me to the role of Chairman of North Norfolk Vikings Swimming Club.
I'm looking forward to helping to continue to support the great club we have developed for our swimmers. The committee meet every 4-6 weeks and ensure we have everything in place for a successful and safe club. If you ever have any questions or concerns please do speak with any of us or the helpdesk team.
For anyone who doesn't know much about me… Myself and husband Spike help out coaching Development, Squad 4 and Squad 3. We also both swim and still compete in Masters for the club. Our two children Isaac and Noah swim in the club and have done since we moved to Norfolk. I retired from the Royal Navy in 2015 and have since been working in business consultancy and running my own Swim School. I have been a swimming teacher for nearly 30 years, a coach for 15 years and I tutor new teachers for the Swimming Teacher's Association.
My focus is to continue the good work of the club, ensure our swimmers meet their aspirations and ensure we are in the best position to continue. For this I ask you all to support in any way you can. Be that paying subs and getting gala entries in on time, answering calls to help at galas, lane coach or officiate. We're of course always looking for support however there are currently a number of important vacancies – if you're not already regularly helping please do come and talk with me about where you could come help out even if that's for just an hour a week.
See you at the pool soon, Sarah
"You can't put a limit on anything. The more you dream, the farther you get." Michael Phelps, most decorated Olympian of all time.
Sarah
Director and Founder
Swimtots Swim School Limited
07580 351058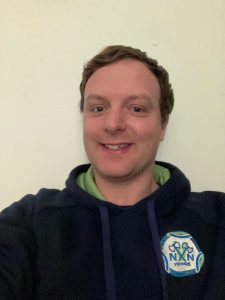 Lead Coach: Sam Watts
Level 2 qualified teacher – performance squads
I would like to introduce myself and share my swimming background. I was introduced to competitive swimming through my mother who was also competitive swimmer. My grandfather was a coach for many years within a local club. I started competing at ten years old and performed well as a sprinter. Within a few years and some tough competition, at fifteen I became County Champion in the 50m fly and 50m freestyle.
I completed a National Diploma in Sport and had the privilege of visiting Australia on a swimming scholarship while studying a Certificate in Sport Development. This provided me with more knowledge and appreciation for competitive training.
Having a short break from swimming allowed me to come back into the sport with respect for the hard work it takes to achieve. As a senior and master's swimmer my training shifted focus on endurance and distance. I have been able to qualify and compete internationally. Within the 30-35 year age group, I took part in the 2016 European Master Swimming Championships London, where I finished 25th in 400m freestyle.
Exceeding my own expectations, a year later, during the World Masters swimming Championships in Budapest, I moved up the rankings and finished 15th in the same event. Continually pushing my personal bests and adapting my training. Finally, this summer I challenged myself to my first open water competition and it's an event I won't forget. Finishing as the Norfolk County champion within my age group.
I believe it's important to know that swimming exists beyond youth swimming and age groups. We can continually fight and push our boundaries. Joining the Vikings family, I will bring enthusiasm, first-hand experience and passion for a sport I have been a part of for most of my life. I will continue to grow and learn coaching skills that will aid those in the water. Setting achievable goals and targets to aim towards.
Within my swim teaching I have worked with a variety of abilities and understand each swimmer develops differently and may have different ways of learning. Working with swimmers my aim is for them to be the best that they can be.
I look forward to the journey we will share.
Sam
 
Coach: John Holden – Development Squad
John holds the Swim England's ASA Club Coaches Certificate and Level 2 Teachers certificates with both Swim England and the Swimming Teachers Association(STA).  He is also a life saving tutor/assessor for both the Royal Life Saving Society and the STA.  John has had a number of years experience and has recently joined the coaching staff at the NNVSC.  You will normally find him coaching the Development Squad at the Victory.
Guy Metcalf:  Level 2 qualified teacher – performance squads
Becky Weir: Level 2 qualified teacher Learn2swim
Roxanne Demmen: Level 2 quailfied teacher 
Development squad
My Name is Roxanne and I've been coaching for 15 years. I first started coaching trampolining and gymnastics and went on to study Sports Coaching at the University of Derby, Buxton and graduated with distinction. I took a short time out to have my two daughters before returning to the sports and leisure industry, where I have built a career for myself. I feel very passionate about people's all round health and fitness. I have been teaching swimming for a few years now and love my job. I am very enthusiastic about giving everyone an equal opportunity to be able to learn to swim, it is a skill, especially living so close to the sea in North Norfolk. I haven't been a swim coach for long, but pulling all my experience from other sports and different parts of the fitness industry I'm hoping to bring a slightly different approach to the sessions. I'm excited to keep working with the development squad and watch them grow in confidence and hopefully compete in the future.
Sam is supported by a team of experienced, DBS checked, volunteer teachers.