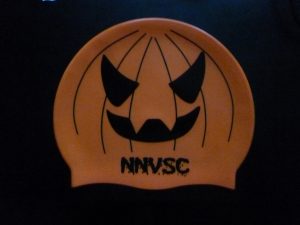 Wild Card Entry results in double gold for Anna.
Anna Turner, joined the Halloween Gala at Dereham late when she swam for the North Norfolk Vikings Swimming Club. Anna's entries were in doubt when she arrived  due to an administration "hic-cup"  but the 10 year old was allowed to swim on a "wild card entry" by the courtesy of the Dereham Otters Swim Club, who hosted an excellent gala for younger swimmers.
Her first gold was in the 50m freestyle when she defeated a field of 23 touching the pad in 39.12. three seconds ahead. Vikings had more success over 50m freestyle when Fearne Sadler was runner up in silver medal place with her 44.76 and Mily Edridge made it  bronze in 44.99 in the next age group up. It was 50m again for Anna but this time over the breastroke when she won her second gold in in 56.8, again by three seconds, leaving 16 behind her.
Also on the gold medal trail was team captain Layla Callaby who lead by example winning the  50m freestyle in 39.12 in her age category.  Meanwhile, fellow Viking Alice Dickety touched in 39.49 in third place with only split seconds separating the first three.
Layla continued her form when she brought home three more medals. It was freestyle again, this time over 100m when she went 1:34.82 for bronze.
  Another  bronze soon followed when she displayed she was not just a one stroke swimmer. Flipping over to backstroke she recorded 1:42.86 over the same distance.
Layla completed, what was for her an excellent day, when the 11 year old managed a silver in the  50  breaststroke with 54.83. All her swims were done in personal best times.
Anna Thurston won no fewer than  six medals ,five silver and one bronze and subsequently achieved a personal best on each outing. It was in the 100m freestyle where the 12 year old improved the most. Anna reduced her time by seventeen seconds finishing in 1:30.36. missing the gold medal by a split second.
Other swimmers who won medals were Alice Dickety, Leonardo Jones, Fearne Sadler, Holly Cartwright, Bethany Brooks, Zerif Gokmen, and Isla Cartwright. 
The club were also represented by Edith Hopkins, Rosa Sadler, Heidi Smith, Emilia Sequeira-Reis, Darcie Lee, Ray Smith, Lexie Parker, Jasper Green, Lucy Fincher,  Nancy Harrison and Tessa Cartwright.  
After the gala, team coach Roxanne Demmen said
"It was lovely to see so many of our younger Vikings swimming! The gala proved a learning curve for all whilst every one gave their all, I think they can all build and look forward to doing it again in the future. "
Vikings won 3 Golds,17 Silvers and 9 bronze medals.