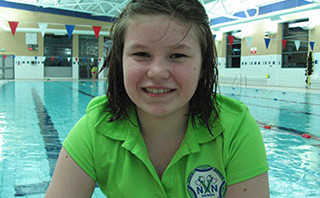 One of our swimmers, 12 year old Mollie Smith has notched up a regional-standard time.
Mollie, from Roughton near Cromer, crashed through the 100metres freestyle qualifying time by just 0.06 seconds – finishing in 1 minute 7.92 seconds.
She managed the feat during the City of Peterborough Open Meet last weekend. It means she has qualified to swim in the ASA East Region Championships in Norwich, June.
Mollie said: "I was really amazed. I was hoping to swim a personal best but I turned round in the pool and saw I'd got a regional time. I couldn't believe it."
Mollie is only the third current North Norfolk Viking swimmer to get a regional time – and Head Coach Chris Searle is overjoyed.
"We're all proud of Mollie," said Chris. "To swim a regional time is a very big achievement indeed. "She will inspire some of our up and coming swimmers to improve their competition times even more."
Hannah Cooper, 13, from Aylsham, is also training for the regional Championships, hoping to qualify before June.