Chloe Hits Six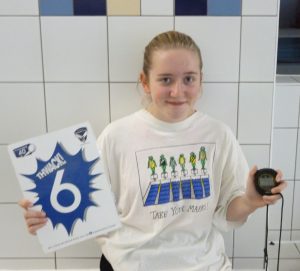 Chloe Jackson, has achieved six County qualifying times at a gala held recently at the UEA when she was apart of the team under the auspices of lead coach Sam Watts.
Her main focus was on  her freestyle where she qualified first for the 400m  The Norwich High School student swam sixteen length of the pool to achieve a time of 6:24.67 finishing in fifth place. In the 200m, she just finished ahead of fellow Viking Jess Seamark by just over a second, completing the course in 2:51.18. and subsequently qualified in the 100m in 1:15.63.
After achieving a hat-trick of freestyle qualifiers she demonstrated  her all round swimming ability by competing in the the 200m Individual Medley. An event where swimmers  do all of the four strokes in one race. Miss Jackson aged fourteen, who has only recently moved over to the club, made no mistakes and subsequently hit the pad in 3:15.75. She then adapted quickly from middle distance to sprints and rounded off her programme with two successful  butterfly sprints  In the 50m she qualified in 41.87 – narrowly missing out on a bronze medal and in the 100m  she went 1:35.35 to complete the six
Chloe, who trains three times a week and makes a  twenty seven  miles round trip from Hellesdon to the Victory Pool in North Walsham  said
" I have found that Vikings are a very welcoming club and I want to do well for them"
Twin brothers, George and Zak Edridge from Tunstead .have also qualified ; whilst club captain Rebecca Burrows took a Bronze medal in the same qualifying gala. The three swimmers all attend Broadland High School.
Zak qualified in the 50m Breastroke when he swam against his brother.  Zak recorded 49.71,  just  ahead of George, who on this occasion George, agonisingly missed the qualifying time by just 0.66 seconds . Both Vikings were locked together again in the 100m when Zak finished ahead of George for a second time but the score board revealed a slightly wider margin between the two twelve year olds  with Zak on 1:46.59 and George on 1:48 25. respectively –  both of whom bagged County qualifying times in this event   However it was the 200m freestyle  where George gained his second qualifying time in 3:00.98 which resulted in the brothers gaining two qualifying times apiece.
Rebecca, from Rackheath was the only Viking to medal at the gala. achieving a bronze  in the 200m Breaststroke  with her 3:24.07. Ironically her time does not qualify her for the County Championships. However. Its been a positive time for fourteen year old Rebecca as she has rejuvenated her enthusiasm for swimming by joining the Vikings  and afterwards  said
"I am delighted to have got my first medal at a gala with a new goal to gain county times next year. I would like to thank everyone at Vikings especially my coach Sam for helping me to get my love of  swimming back.
Ashley Jones swam well when he qualified for the 50m freestyle in 30.83 and was supported by Emily Breighten, Jess Seamark and Masie Fagan who, although did not qualify this time, made a good account of them selves by swimming for Vikings.
Katy's Midas Touch At Gala

Ruby & Katy
 Katy Coleman and Ruby Tracey are the latest to qualify for the County Championships when Katy won a hat-trick of gold medals and a silver. Ruby achieved two bronze medals at the same, final qualifying gala at the UEA. just before Christmas.
In the 100m butterfly Katy came back from behind as at the first 25m she was in fourth position. Demonstrating diligence and tenacity  she was in first place at the final turn. However she was pushed all  the way over the final 25m by Millie Harris of Wisbeach  but Katy was not going to relinquish the lead she had fought so hard for;  finishing a split second ahead in 1:12.38. to take the gold.
Her second gold came in the 100m freestyle when she ironically defeated a field of 100 with her 1:04.31 and then in the 50m freestyle it was gold again in 29.16. defeating no fewer than 131 swimmers. However, Katy was still not done, because she got a silver in the 50m butterfly with  32.37.
Meanwhile, Ruby was in contention all the way in the100 backstroke. Her nonchalant tumble turns  were dexterously timed on either side which made all the difference for her to take the  bronze medal in 1:15.84.  Consistency was a key component again In her 100m breastroke when she did the last three 25m each in 22 seconds on her way to her second bronze medal in 1:26.59
John Holden
Photos Masie Fagan R – 200m Freestyle in 3:03.92
Ashley Jones L – 50m freestyle in 30.83
---