My first open water swim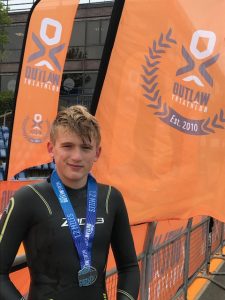 The event was part of my mums Ironman distance triathlon and was held at the National Water Sports Centre at Holme Pierrpont, Nottingham. I was swimming with lots of adults and older children. When I was going up to the start the weather was quite cold but they said the water was warm and they didn't lie, the temperature was very warm, like getting into a bath. When we started you had the option to dive or sit and slide in, I dived off the side in to the dark green water.
I could just about see my hand as it entered the water. It was cold at the beginning but got so warm. I had to swim 1.2 miles, the water was very choppy. The big orange buoys were difficult to see, but I looked forward every 6-8 strokes and this kept me going in a straight line. The whole time I was thinking about how I was going to feel great after the swim. It was hard work and tiring however, I felt awesome and refreshed and I would do it again and I will. I was so happy to come second in the under 16 age group, I never knew I could swim that fast for so long. I would encourage others to do an open water swim if they get the chance, it is a great experience and one that I will do again.
Isaac, aged 12, Squad A.
July 2021