Silver Hallmarks For Leah & Katy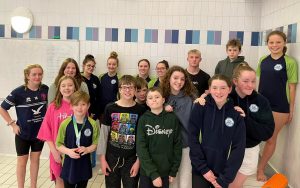 (Vikings at the City of Norwich meeting)
Leah Harris of Cromer and Katy Coleman of Mundsley came away with two silver medals each at the City of Norwich Swim Meeting held at the UEA, when they swam for the North Norfolk Vikings Swimming Club.
Leah came second in the 100m butterfly in 1:11.54 from Rebecca Smith's 1:10.75 of the Norwich Swan Club in a tight finish. During the100m freestyle It is was another close finish as she was just out touched by Charlotte Smith, also of Norwich Swan, in 1:03.35 from Charlotte's 1:02.40. There was more success for the young eighteen year old adult when Leah won two bronze medals. In the 50m butterfly with 0:31.16, against a field of twenty eight and the 50m freestyle in 29.19 against thirty seven competitors respectively.
Meanwhile, the middle distances favoured Katy over 200m  Her first silver was achieved In the butterfly in 2:50.32 finishing behind her name sake Jasmine Coleman of Norwich Swan who completed the course in 2:45.17. In the backstroke, the  seventeen year old was runner up in 2:44.78 behind Norwich Swan's Shannon Stubbs' 2:39.70
There were more medal success for Vikings at both ends of the age range with eleven year old Reuben Seaman who broke a minute for the 100m breaststroke in 0:59.97  and seventeen year old Harry Hudson in the 50m  butterfly in 27.90  both of whom won bronze medals respectively
Vikings also had a number of top eight places. Emily Beighton 200m breaststroke 3.37.82 sixth. Chloe Jackson 100m freestyle 1.14.91 eighth. Rebecca Burrows, 400m freestyle 6.02.45 eighth. Emily Morton 100m backstroke 1:28.03 sixth and the Edridge twins Zak 1:47.80sixth and George 1:52.07 seventh  over the 100m breastroke respectively Vikings were also represented by Winnie Brown, Jess Seamark, Amy-Rose Thomas, Ruby Tracey, Bailee Beighton, Esme Seaman, Maisie Fagan and Sophie McKee.