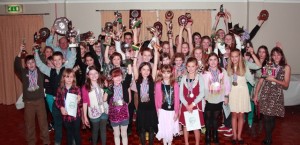 Our young swimmers at North Norfolk Vikings Swimming and Triathlon Club were celebrating after their annual awards night. Fifty five club members were presented with trophies, medals and certificates for their achievements over the past year.
Our picture shows them celebrating triumphantly, during the club's presentation night held at Rossis Leisure Centre in North Walsham. 
Club Chairman, Charlie Crafer, said: "North Norfolk Vikings Swimming Club has had a brilliantly successful year.
"Congratulations to all of our county qualifiers who turned out for us last March wearing with pride their Club tops.  It is a great achievement to swim at the county championships and we hope more of our swimmers will join this special group in 2014."
In the last year, membership of The Vikings has grown from 85 to 124 – a testament to the reputation and success of the club and its swimmers. Many new members came after the Vikings introduced new squads at Aylsham and Sheringham.  About 100 children learned to swim with The Vikings too.
Swimmers Emily Bowyer and Mollie Smith qualified for and swam at the Regional championships in June.  Hannah Cooper qualified to swim in 2014.  Swimming at the Regional championships is a very special achievement which the club is proud of.
Head coach, Chris Searle, said: "Congratulations to all of the Vikings swimmers. They've worked amazingly hard to improve personal best scores and compete in our own championships and representing the club across Norfolk and the East Anglian region."
The Club awards followed club championships which were held at The Victory pool in North Walsham, where the Vikings are based.
The swimmer with the most awards was Emily O'Hanlon, aged 16, from Swanton Abbott, who went home with an amazing sixteen medals or trophies. She came first in 11 races.
Greta Balfour, aged 14, from Stalham, and Thomas Curtis, 12, from Lammas, picked up twelve awards each.
Molly Cooper, 13, from Cromer, Adam Molloy, 10, from and Matthew Webb,   each picked up 11 awards.
Mollie Smith and Hannah Cooper both smashed the club records for 100 metres butterfly for their respective age groups.
Thomas Owen & Greta Balfour were made Senior team captains. Thomas Curtis and  Victoria Lloyd were made Junior team captains.
Special club awards went to:
Billy Life – Runner-Up Boy
Leah Harris – Runner-Up Girl
Matthew Rogers – Junior Endeavour Award, Boys
Maisie Winslow – Junior Endeavour Award, Girls
Thomas Owen – Senior Endeavour Award, Boys
Poppy Arnold – Senior Endeavour Award, Girls
Liam Blatch – Teachers Award, Boys
Molly Cooper – Teachers Award, Girls
Thomas Owen – Most Improved Boy
Jessica Curtis – Most Improved Girl
Bethany Toyn – Special Butterfly Award
Mollie White  – Special Back Stroke Award
Jasmine Harris – Special Breast Stroke Award
Luke Babbs – Special Freestyle Award