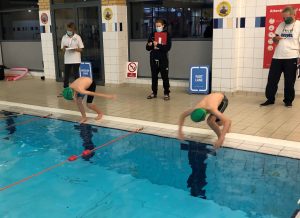 Grant From Watling Charity Provides Opportunity to join Vikings
The Club has been  awarded a small grant from Norfolk's  Geoffrey Watling Charity to assist us with their project, Swimming Opportunities For All.(SOFA) This created vacancies for new members either to join the club or for parents to enroll youngsters in the "Learn to Swim" program at Aylsham High School. However, the response has been so positive that there are no more places at the time of writing but hopefully more places will be available as the COVID restrictions ease The cash boost will make swimming more accessible for more youngsters to benefit and enjoy extended free taster and  try outs.  Sarah Buchan, Club Chairperson explained the significance of receiving the grant.
"We would like to thank the Geoffrey Watling Charity for their kind assistance and we value any financial help which enhances a safe, healthy outlet for youngsters in our immediate community."
The Vikings took the plunge in the middle of April immediately after the government eased the second phase of lock down but their over 18s will have to be a little more patient because they cannot get back in the swim until May.
Meanwhile, Vikings' Lead Coach Sam Watts is wasting no time and has a distinct focus and a clear progression to the Vikings' return
"Like all, we hope we are moving out of the last lock down in stages. Therefore, we too will introduce a staged approach towards building up fitness, bringing back proficient technique and develop stamina again before working on any real speedwork."
John Holden