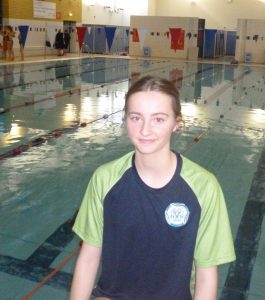 (Sophie McKee – two bronze medals)
Vikings Success as County Championships rejuvenated after covid.
Norfolk Vikings Swimming Club had considerable success at the County Championships held for the first time since 2020 at the UEA pool, Norwich.
Leah Harris of Cromer swam 29.34  to a silver medal in the 50m freestyle. In the 100m freestyle she was down in seventh in 1:02.93 but ironically the time subsequently qualified her for the Regional Championships in the summer.
Broadland High School Year 11 student, Sophie McKee came home with two bronze medals, the 50m freestyle in 29.78 and 100m backstroke 1:16.98 respectively. It was bronze too in the 200m backstroke for 17 year old Katy Coleman of Mundsley, when she finished in 2:44.69
Harry Hudson has also qualified for the Regionals when he scored 27.78 for the 50m butterfly although he finished in eighth position. With seven others ahead of him , all of whom hit regional times, it provides ample evidence as to the fierce competition to what Harry and indeed Leah faced.
Michael, Isaac and Noah triumph 
Michael Sayer and Noah Buchan each became multi county age group champions.   Michael from Holt, was three seconds ahead at the half way point of the 200m Individual Medley. However, it was ironically Noah who pushed Michael all the way, but Michael held on well with his strong freestyle leg to finish in 3:22.98 as Noah touched over a second behind to become runner up in the 11 year age group category.
Michael then made it a clean sweep of all the backstroke events and was victorious for the second time in the 50m backstroke when he just out touched James O'Toole of the City of Norwich Club , with 41.27 from the 41.55 recorded by James and subsequently defeated no fewer than nineteen in his respective age group. If this was not enough, he added a third age group title when he again just crept ahead of James at the conclusion of the the 100m in 1:31.02 and rounded off his backstroke events with the 200m finishing the 50m long course event in 3:13.69.
Noah,from Beeston Regis, beat a field of sixteen in the 200m freestyle to finish in 2:49.65 – a clear margin of fifteen seconds from second placed James.  It was freestyle again and gold again when Noah was the winner of the 400m in 6:12.19.  He went on to be runner up in the 50m freestyle when he hit the pad in 36.27 just behind Josh Read also of the City of Norwich Club. In the 100m freestyle Noah swam very well by taking another second place only to see the score board reveal that it was again Michael Sayer who had won the event in  1:23.62  respectively to earn Michael his fifth gold medal of the championships
Noah's elder brother Isaac won his 13 Years 400m freestyle in 5:13.51. He captured a  silver in the 200m backstroke with his 2:53.93 behind Travis Viotman of the City of Norwich Club. He continued to achieve three bronze medals the 100m freestyle in 1:09.77. 50m Butterfly 35.74 and 50m backstroke in 36.11.Through out the championships,
Ashley Jones came second in his heat of the 50m freeestyle in 30.22.  Chloe Jackson, Reuben Seaman, George and Zak Edridge were also apart of the team. Reuben improved his 50 butterfly time by thirteen seconds when he finished in 54.66. in the 11 year age group race.
Vikings won eight golds, five silvers and seven bronze medals.
CONGRATULATIONS TO ALL OUR SWIMMERS!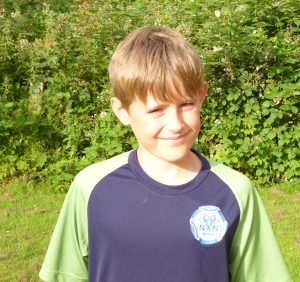 Michael Sayer Five Gold Medals
---