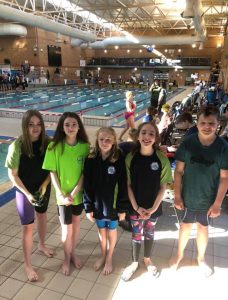 Congratulations to out team of swimmers who competed at the weekend in Thetford at the Warwick Thompson gala. Six of our junior swimmers represented the club in the norfolk event against the other local county clubs and achieved 13 personal best (PB) times between them.
Florence street Swam a great first race for the club racing the 200m backstroke in 3:45.86, dropping her PB from 4:02 to take second place in her age group. Florence also secured PB times in the 50m breast, 50m backstroked swam another brilliant 20 second PB in the 200m breastroke! This placed her 5th in her age group.
Maddie Wicks placed 12th in the 50m freestyle, lowering her PB to 42.32 from 44.10. She also placed sixth in the 100m breast in the same session in another PB six seconds faster than her original best time.
Maisie Fagan competed in the 50m freestyle event where she swam the race in 45.12, a best time by 6 seconds – well done on a great performance!
Raphie Horne morris swam in multiple events over the course of the two days, starting with the 200 IM on Saturday morning, in a strong PB time of 3:26 from 3:31. Her highlight was a gold medal in the 50m backstroke event finishing in 42.43! Well done to her on this performance.
Sam Morton had some great results over the weekend, finishing second in his first event: the 50m backstroke. Sam completed the race in 48.06, which was a four second PB. In the 50m freestyle event he also finished 5th.
Congratulations also to Matilda Gibbons who secured 6th place in the 50m Fly.
Well done team on a great weekends racing! Now its the turn of the senior swimmers this weekend at the UEA Long course meet. Keep up the great work everyone!